The simple act of enjoying a meal with your family can have a huge impact on your family's overall health. Research consistently shows that eating together as a family can improve your child's performance at school, increase self-esteem, deepen family bonds, reduce the risk of depression, obesity and so much more.
Between work, school, friends, and sports, it's easy to feel short on time and stretched thin by life's responsibilities and activities. But don't overlook this important family bonding activity. Family meals don't have to happen every day, but make an effort to have them as often as possible for the health of your family.
Benefits of Eating Together as a Family
Sharing a family meal offers more than just a full belly. The benefits of shared family meals are plenty:
• Build stronger relationships and deeper bonds between family members
• Connect through conversation
• Develop healthy eating habits and model healthy behavior for children
• Provide a greater sense of routine, stability, and open communication
Family Time is Time Well Spent
The most important part of family dinners is spending time together and bonding regularly. This predictable family event gives you time to show interest in your children and teens. Talk about what happens in your day and theirs, ask what they think about certain situations, and praise them for something they've done.
Eating Together Builds Meaningful Bonds
Showing you care about your child or teen goes a long way toward building a strong parent-child bond. When this bond exists, they know they are loved and cherished, and you are there for them when they need you. A loving relationship with your child can encourage higher self-esteem and improve their ability to show resilience during times of adversity.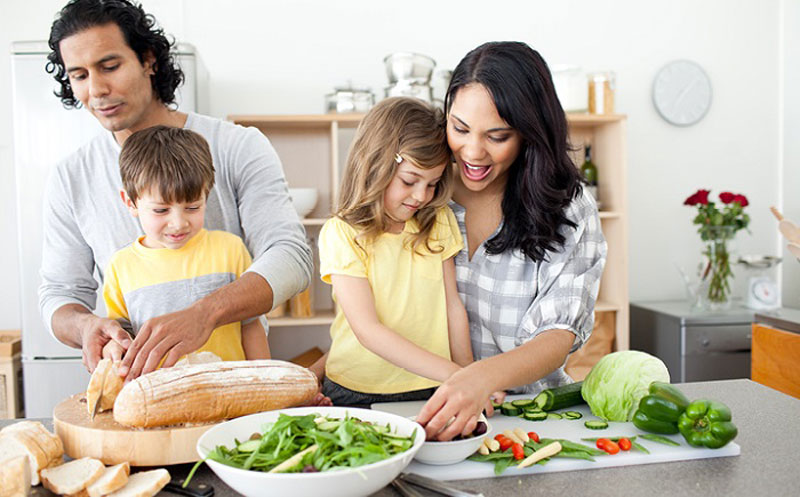 Physical and Mental Health Advantages of Eating Together
When you eat together as a family, your child's physical and mental health benefit as well. Consider these health advantages of sharing family meals:
• Improved self-esteem
• Healthier eating habits
• Lower risk of depression
• Lower risk of obesity and weight struggles
• Lower risk of tobacco, alcohol, and other substance use
Time To Reinforce Social Skills
It's important to model social etiquette during family mealtimes for your children. During family meals, your child will learn:
• Conversational rules like listening and taking turns talking
• Table manners, including using utensils and not talking with your mouth full
• How to be polite, show interest, and make eye contact
Make Family Meals More Meaningful
Give more meaning to family mealtime by putting down or turning off electronic devices like phones, tablets, laptops, and TVs. Focus on topics that inspire open conversation and save touchy topics for another time.
Use simple conversation starters such as:
• What was the best part of your day?
• What was the most interesting thing that happened today?
• What are you grateful for today?
• What was the worst part of your day?
• How did you help another person today?
• What's your favorite meal?
Make Shared Mealtime Happen
Even if it's a challenge to have a shared mealtime, the rewards make it worthwhile. Think creatively to work around obstacles. If you don't cook, you can try healthy takeout or use a quick, easy dinner recipe that your children can help make. If caregiver schedules don't align, then schedule family meals for weekends or a different time when both parents are present. It doesn't have to be dinner — a family breakfast or lunch is just as effective at bringing everyone together for a meaningful meal.
As a parent, you play a key role in helping your child develop the skills and abilities they'll need to thrive. Find out how you can support your child's mental fitness at each stage of their young lives by visiting the Ohana website.