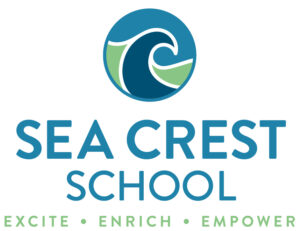 More About Sea Crest School
We invite you to tour our campus and learn more about Sea Crest School. During the tour, you will have the opportunity to visit classrooms, see our students in action, hear from faculty and staff, and engage with current parents. All tours will end with a brief Q & A opportunity with the Director of Curriculum and Director of Admissions. Tours are on Thursdays from 9:00 – 10:30 a.m. Registration is required.
You will have the option of scheduling a tour that covers our entire JK-8th grade program or an Upper School (5th-8th) specific visit. All tours are for adults only.
2023 – 2024 TOUR DATES
ALL GRADES – 11/2/23, 11/9/23, 12/7/23, 1/11/24
UPPER SCHOOL (5TH-8TH) only – 11/16/23, 11/28/23 (solo en español), 12/21/23, 1/18/24
Our signature interactive "Sneak Peek" visits for JK & K applicants only. During the Sneak Peek experience, parents will join their children for a classroom morning meeting and story time. While your child stays in the classroom for their own small group session complete with a project and lots of fun, parents will take a brief campus tour followed by a Q and A with the Head of School, Director of Curriculum, and Director of Admissions. Sneak Peeks are on Thursdays from 8:30 – 10:30 a.m. Registration is required.

SNEAK PEEK DATES
JK/K only – 11/30/23, 12/14/23, 1/25/24