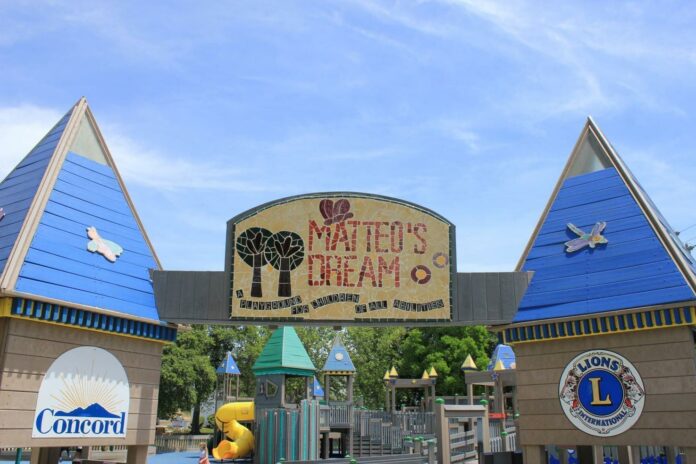 All children, including those with physical and developmental special needs, can come together to play in an inclusive playground. Families typically will find accessible equipment from swings to slides, retreat spaces, auditory features, secure fencing and more. Here are some favorites around the Bay Area.
Athan Downs – This 20-acre community park was renovated in 2013 and includes an all-abilities playground with an extensive ramping system, a spinner, wheelchair-accessible glider and roller table for sensory play. Montevideo and Davona drives, San Ramon.
Heather Farm Park – Set in the 100-plus acre Heather Farms Park – with amenities including a fishing pond, sports fields and court and a swim center – this popular 30,000-square-foot all-abilities playground opened in 2014 and includes turf hills to slide down, imaginative play areas, a sand play lot, accessible bucket swings, sound and sensory equipment, and shade structures and benches so parents can stay close to their playing kids. N. San Carlos Drive, Walnut Creek. .
Imagine Playground – The all-abilities playground includes multiple structures, an all-inclusive picnic area, accessibility to other park features including the sports fields and a public art piece that emphasizes people's ability to overcome differences and find common ground through conversation. Dublin Sports Grounds, 6700 Dublin Blvd., Dublin.
John D. Morgan All-Inclusive Playground – This newly renovated playground includes accessible play structures, spinners, swings, a splash pad, auditory play features and gently sloping grass berms. 540 W. Rincon Ave., Campbell.
Leo's Haven – Spurred on by a local mom who wanted a space where her wheelchair-using son could play with his siblings, this farm-themed inclusive playground opened in 2020 and includes a barn play structure with accessible ramping, a Sensory Barn and Farmers' Market, a group seesaw, swings, activity panels that encourage language development in both English and Spanish and more. Chanticleer Avenue County Park, 1975 Chanticleer Ave., Santa Cruz.
Magical Bridge Playgrounds – Magical Bridge opened its first playground in Palo Alto in 2015 as the passion project of a mother of a daughter with special needs. The organization has since created five more in the Bay Area, with another 11 slated to open here and around the world. The inclusive play zones include equipment to swing and sway, slide and climb, spin, make music and engage in pretend play, plus an area for tots and a Kindness Corner with messages to encourage kids to make friends with someone different and stand up to bullying. Community Park in Morgan Hill, Mitchell Park and Addison Elementary in Palo Alto, Red Morton Park in Redwood City, Fair Oaks Park in Sunnyvale, Whoosh! at CuriOdyssey in San Mateo, with Mountain View and Santa Clara sites slated to open in 2023.
Matteo's Dream – Concord's largest playground was one of the first of its kind when it opened in Hillcrest Community Park in 2007 in honor of a young resident, thanks to the work of the Lions and thousands of volunteers. The 12,000-square-foot playground includes wide ramps, a tactile slide, a giant rocking boat and other play structures that include a castle, train and village. 2050 Olivera Road, Concord.
Mia's Dream Come True Playground – The brainchild of a father whose daughter has cerebral palsy, this all-abilities playground in Hayward's Tennyson Park has zones that cover cognitive, physical, social, sensory and communication aspects of play. The design includes accessible play equipment, local landmarks, play structures from a fire truck to an airplane and a quiet zone with Little Free Libraries. 28377 Huntwood Ave., Hayward.
Rotary PlayGarden – A gift of the Rotary Club of San Jose, this $6 million playground opened in 2015 and incorporates standard play elements along with adaptive swings, a wheelchair-accessible merry-go-round, kinetic art, sensory experiences and more where children with special needs can play alongside friends and siblings. Guadalupe River Park, 438 Coleman Ave., San Jose.