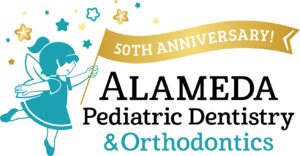 1105 Atlantic Ave., Alameda, California 94501
Tuesday
7:30 am - 5:00 pm
Wednesday
7:30 am - 5:00 pm
Thursday
7:30 am - 5:00 pm
Saturday
7:30 am - 1:00 pm
More About Alameda Pediatric Dentistry & Orthodontics
Kids teeth need care just like grown-up teeth! Regular exams by our Board certified Pediatric Dentists can help to identify any abnormalities in your child's oral development and can minimize the impact of decay on your child's teeth by catching cavities early.
Our pediatric dentists specialize in:
Early infant oral health care
Kids, teens, & young adult dental care
Special Needs
Orthodontics
Periodic check-up exams
Dental cleanings
Brushing and flossing lessons
Fluoride treatment (including Silver Diamine Fluoride)
Sealants
Digital x-rays
White fillings (mercury-free)
Crowns (including white crowns – by Sprig)
Tooth extractions
Pediatric sedation dentistry
Emergency dental care
We provide many options for children to enable them to safely and comfortably receive the care they need:
Nitrous oxide
Oral sedation (kids are drowsy and awake)
General anesthesia in-office (kids are asleep)
Women Owned & Operated
Celebrating 50 years in the Bay Area!
Welcome to Alameda Pediatric Dentistry, where our mission is to make kids smile! Since we first opened our practice 50 years ago, we have built a reputation for providing exceptional dental care that families trust. Today, we serve patients who visit from all over the Bay Area to receive unrivaled personal service and passionate, professional care.
As we have grown, we have modernized our operations and technology to exceed industry standards, yet our beginning as a small-town practice continues to define our culture and values.
We are proud to offer convenient, compassionate, and comprehensive dental care to families in four Bay Area locations: Alameda, Oakland, Pleasanton, & Brentwood. All of our offices were custom designed to accommodate specific family needs. APD is the only pediatric dental office in the Bay Area with both on-site orthodontics and a fully equipped sedation center.
Our amazing doctors and staff have advanced training in special needs and sedation dentistry to ensure that we can keep our patients safe during even the most challenging cases.
With orthodontic care under the same roof, we offer the convenience of fewer appointments, while your child receives more comprehensive, customized care. Our specialists collaborate immediately and work together to solve each child's dental needs, ensuring a seamless experience for your family.
Alameda Pediatric Dentistry has deep roots within the Alameda community. Remarkably, there are several employees who have continued to work with us for over 30 years. In fact, Dr. David Perry has been with APD since 1973! Additionally, many of our employees are former APD patients, including Dr. Sharine Thenard, who became a partner in 2005. She continues the legacy of providing the same attentive, individualized care that she received as a child in our practice. Dr. Mylinh Ngo partnered with APD in 2008 and brings immense empathy and expertise in pediatric dentistry.
When a patient comes through our doors, they experience a team that operates as a family. We believe that every one of our team members are vital to our success, so we invest in their continued education and professional development. We enjoy maintaining a high level of team engagement, ensuring employee satisfaction that translates to consistent care for our patients.
Here at Alameda Pediatric Dentistry, what matters the most is that we leave a positive impact on kids in the Bay Area for decades to come. Our dentists not only treat kids today, but they prepare children for lifelong healthy smiles. We truly love to make kids smile!
Kids teeth need care just like grown-up teeth! Regular exams by our Board certified Pedia […]