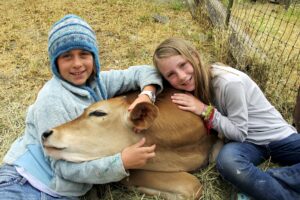 17197 Hyampom Rd, Hayfork, California 96041
Tuesday
8:00 am - 8:00 pm
Wednesday
8:00 am - 8:00 pm
Thursday
8:00 am - 8:00 pm
Saturday
8:00 am - 8:00 pm
About Bar 717 Ranch / Camp Trinity
Operating since: 1930. Camps for ages 8-16
More About Bar 717 Ranch / Camp Trinity
Camp Trinity on the Bar 717 Ranch is a residential summer
camp for kids ages 8-16. Our mission is to provide an outdoor camp experience
where children have daily opportunities to have fun, develop friendships,
challenge themselves, learn new skills, gain a sense of community, and make
their own choices. Campers choose freely from activities that range from
horseback riding, animal care, gardening, crafting, ceramics, and woodworking
to backpacking trips, campfires, singing, and much more.
For more than 90 years, the Bar 717 Ranch has welcomed
children to 450 acres in the beautiful mountains of Trinity County in Northern
California to experience nature, form deep friendships, and have big fun. At
Camp, nature is our constant companion. By taking time to appreciate the beauty
of the land, by swimming in rivers and climbing mountains, by growing gardens,
raising our own food and making compost, we foster in campers a deep
understanding and appreciation of the environment.
We pride ourselves on fostering an environment where every
kid can create a magical camp experience based on their interests and passions.
We believe that children thrive in an atmosphere where both individuality and
community are nurtured with warm, seasoned leadership. Campers return home with
a newfound sense of self-reliance and a deep connection to community.
We offer four two-week sessions of summer camp and one session of Family Camp. An average session of camp has 130 kids enrolled.
Our campers and staff come from all over the country and around the world.
Perhaps the best thing about camp is that it is a place where kids are free to
be themselves—to be accepted, included, and embraced by a community of
supportive peers and adults.  We believe in this vision deeply, and we
work hard to create an inclusive and respectful environment. We believe that
for all campers, the rich experiences, deep friendships, and time spent on the
ranch will stay with them for a lifetime.
Resident Medical Staff.
Camp session: 2 weeks.  Family Camp is 1 week.
Cost: 2 weeks: $4000, Family Camp: check our website or call for prices
Lodging: Platforms: These sleeping structures are our own invention, perfectly adapted to our summer climate of warm, dry days and cool nights. A Platform is a cabin-like structure with 3 walls and a roof, open on 1 side to views of the pasture or forest
Want to feature your business here? Contact us today!