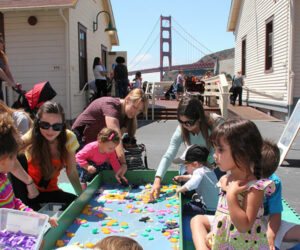 More About Bay Area Discovery Museum
The Bay Area Discovery Museum (BADM) is an innovative, multifaceted children's museum located on 7.5 acres of national park land at Fort Baker in Sausalito, CA. BADM's site features seven exhibition spaces and more than six daily drop-in programs for children ages 6 months to 10 years.
All of our programs and exhibitions are backed by findings from the Center for Childhood Creativity—BADM's research and advisory division—and all provide STEM-focused, inquiry-driven experiences that help children develop creativity and conceptual thinking skills.
For more than 25 years, BADM has delivered on its mission of transforming research into early learning experiences that inspire creative problem solving. Through child-directed, research-backed, STEM-based programming and exhibitions, BADM is engaging children to develop the skills that will help shape their future success.
The museum is also deeply committed to extending this mission to all children, and does so by offering a number of school and community programs, as well as outreach initiatives that make the museum experience accessible to all. Beyond our location, BADM aims to raise awareness about the importance of creative problem-solving in early learning experiences, and we support the broader community by providing resources for informal and formal educators, as well as families in the Bay Area and beyond.
Want to feature your business here? Contact us today!