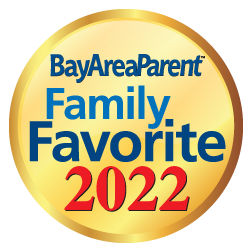 About Lawrence Hall of Science
Best Museum: Gold 2018, Silver 2017 & 2019, Bronze 2020, 2021 & 2022
More About Lawrence Hall of Science
Explore, discover, and invent at UC Berkeley's public science center! Through engaging programs, activities, and exhibits, The Lawrence fosters scientific exploration with a focus on equitable learning experiences. Explore nature in the Outdoor Nature Lab, design, build, and test in Design Quest and Ingenuity Challenges, meet live animals in the Animal Discovery Zone, and more!
Best Indoor Playspace:
2022 Silver
2021 Silver
2019 Gold
2018 Bronze
2017 Gold
Best Museum:
2022 Bronze
2021 Bronze
2020 Bronze
2019 Silver
2018 Gold
2017 Silver
Best Technology Camp: 
2019 Bronze
Best Technology Program:
2022 Gold
2021 Gold
2020 Gold
2018 Bronze
Hidden Gem:
2019 Bronze
2017 Silver 
Want to feature your business here? Contact us today!