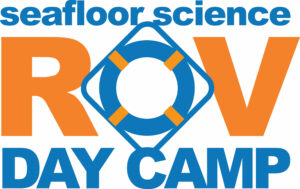 PO Box 475, Moss Landing, California 95039
Tuesday
9:00 am - 4:00 pm
Wednesday
9:00 am - 4:00 pm
Thursday
9:00 am - 4:00 pm
About Seafloor Science-ROV Day Camp
Operating since: 2014. Camp for ages 8-14
More About Seafloor Science-ROV Day Camp
Ever wonder what lies on the seafloor? Dive into the world of marine science, technology, and operations with the Seafloor Science and Remotely Operated Vehicle (SS ROV) camp.
These week-long STEM summer day camps were developed for two age groups (Level I, rising 3-5th graders and Level II, 6-9th graders) and are offered in South Bay and Monterey.
Theses hands-on camps cover the scientific method for ecosystems and seafloor geology plus technologies for deep-sea exploration. Interactive activities incorporate rovers, underwater ROVs, sensors, plankton, sonars, scientific drilling, geology, and more. As ocean explorers, campers will engage in teamwork activities that develop leadership skills, cultivate creative solutions to technical problems, and appreciate a range of career possibilities while discovering our unique underwater world.
NASA and NSF funded the development of the camp, which is now part of a non-profit 501(c)3 (Oceans and Robotics, Inc.)The camp was developed by a team of seagoing research scientists and technicians, bringing the excitement of discovery to the camp!
Camps are offered in Los Gatos, Saratoga, San Jose, Gilroy, Monterey, and AptosCamps are offered for two age levels: 8-10 (Level I) and 11-14 (Level II).Camps are either half-day or all day (9-3 for Level I; 8:30-4:30 for Level II).
Extended hours are available for most Level I camps.
Camp session: 5 days
Cost: $206 – $450, financial aid / scholarships available
Ride a spaceship? Meet dinosaurs? Visit Mars? Join Camp Integem! Camp Integem is #1 AR c […]
Springfield Montessori School, founded in 1990, provides academic excellence to children […]
2023 Summer Camps at Almaden Country Day School are open for registration for all childre […]