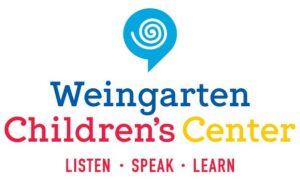 More About Weingarten Children's Center
For over 50 years, Weingarten Children's Center (WCC) has offered a spoken language option to young children who are deaf or hard of hearing through a proven Listening and Spoken Language (LSL) approach. We offer infants, toddlers, preschoolers, pre-kindergarteners and kindergarteners an individualized education through small classes with low student to teacher ratios. Our credentialed and specialized teaching staff empower children to take charge of their own learning through the development of critical thinking and self-advocacy skills.
WCC is a family-centered program, committed to building strong partnerships to ensure every child reaches their potential. It is our mission to prepare all students to thrive socially, emotionally, and academically, setting them up for lifelong success.
Contact us now for more information and/or a tour. Together, we can give your child the gift of a bright and promising future!
For more information about OPTION schools, please visit OPTION Schools, Inc
Brain Performance Technologies is a brain stimulation treatment center that identifies ar […]