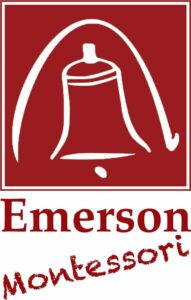 4671 Chabot Drive, Pleasanton, California 94588
Tuesday
7:30 am - 6:00 pm
Wednesday
7:30 am - 6:00 pm
Thursday
7:30 am - 6:00 pm
About Emerson Montessori School
Operating since: 1993. 1st through 8th Grade
More About Emerson Montessori School
ELI's Emerson Montessori Schools in Pleasanton and Palo Alto is a private, nonsectarian institution for students from first grade through eighth grade. It takes an integrated approach to learning that builds on the classic foundations of Western civilization and addresses the future needs of students and their families. Philosophically and in practice, it maintains continuity with the preschool and kindergarten programs of the HeadsUp!® Montessori Preschools.
Emerson's reliance on an individualized pace for the development of basic skills means that individual progress is optimized and, in general, accelerated. Students are typically placed in groups spanning two to three years of age without grade distinctions. The multi-age groupings make possible a program that is customized for each student, thereby accommodating wide range of learning styles and personalities.
Emerson incorporates subjects that are often ignored or neglected by other schools, such as foreign languages, art, music, movement, and physical education, human values and cultures, interpersonal communications, and practical life skills such as cooking, recycling, and first aid. As with the centers, Hacienda is a full-day program so all work is completed during the school day, leaving evenings for family interactions. The year-round schedule means that student progress is not lost during extended vacation periods and families have the flexibility to take vacations when work schedules and weather permit.
Nurturing tomorrow's leaders
• Year-round, full-day program for grades 1-8
• Individualized Montessori curriculum
• Foreign languages (Chinese, Spanish)
• Superior academic preparation
• Cultivation of thinking skills and ethical values
Annual Tuition Range: $25,320 – $27,960
Accreditation: American Montessori Society
Admission Deadline: Accept enrollment year-round
Courses & Services Offered:
Co-Educational
Extended Care
Foreign Language Immersion
Field Trips
Fine Arts Instruction
Music Instruction/Band
Performing Arts
Summer Writing Camps
Affiliated Programs:
Emerson Montessori School – Palo Alto
2800 W. Bayshore Road   Palo Alto, CA 94303
(650) 424-1267
HeadsUp!® Montessori Preschool – San Jose
2841 Junction Avenue       San Jose, CA 95134
(408) 432-1644
HeadsUp!® Montessori Preschool – Pleasanton
4671 Chabot Drive    Pleasanton, CA 94588
(925) 463-2885
HeadsUp!® Montessori Preschool – Palo Alto
2800 W. Bayshore Road   Palo Alto, CA 94303
(650) 424-1221