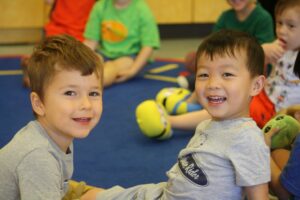 1070 41st St., Emeryville, California 94608
Tuesday
8:00 am - 6:00 pm
Wednesday
8:00 am - 6:00 pm
Thursday
8:00 am - 6:00 pm
About East Bay German International School
Operating since: 2017. Accepts children from 2 years to 5 years
More About East Bay German International School
The East Bay German International School (EBGIS) is a dual-language immersion school offering Preschool through Eighth Grade programs. We combine German and English instruction with project-based learning and individualized attention to each student. We offer exceptional academics, a diverse international perspective, and a vibrant school community.
Our preschool follows a play-based and project-oriented approach to learning enriched by focused small-group activities. Our highly trained and credentialed bilingual teachers follow the principles of early immersion to communicate with children and teach subject matter. We provide individualized developmental and educational support to each child in close collaboration with families.
No prior knowledge of German is needed for our Preschool and Kindergarten programs. Students need not be fluent in German to join our Elementary and Middle Schools. Talk to us about individualized language support and visit our website for more information.
Regular program hours are 8:45am to 2pm, with a flexible beginning of the day starting at 8am. An after-school care option including diverse enrichment classes is available daily until 6pm. A camp option is offered during summer break.
Join us for an open house, campus tour, or community event and experience first-hand our dynamic and engaging learning environment. We look forward to meeting you!
Amenities & Features:
Before & after school care
Field trips
First Aid & CPR Certified
Full time program
Language immersion
Meals provided
Play Based
Potty training assistance
Preschool curriculum
Sibling discount
Teaching credentials