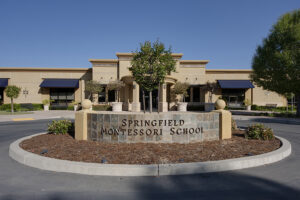 5100 Brannigan St., Dublin, California 94568
Tuesday
7:00 am - 6:00 pm
Wednesday
7:00 am - 6:00 pm
Thursday
7:00 am - 6:00 pm
About Springfield Montessori School
Operating since: 1990. Accepts children aged 2 - 6 years
More About Springfield Montessori School
Our Learning Environment
Springfield Montessori School, founded in 1990, provides academic excellence to children 2 to 6 years of age. We have two convenient locations in the Bay Area and offer many flexible programs that are sure to fit the needs of your family. Our teaching philosophy is based upon the amazing work of Dr. Maria Montessori. Each classroom is composed of materials designed to meet each child's emotional, cognitive, spiritual, social and physical developmental needs with an emphasis on independence.
Our tenured and motivated teachers have the unique opportunity to extend their curriculum into our expansive outdoor environment. This allows each child to build upon the Montessori Method in Botany, Math, Science, Language, Art and Practical Life experiences.
Summer Camp
Each year, immediately following the conclusion of the academic school year, we offer fun and engaging Summer Camp programs. These programs run the duration of the Summer months and are sure to fit in nicely with your Summer plans.
Two Locations
Both our Dublin and Walnut Creek campuses have been carefully designed to provide an environment that is aesthetically pleasing and enticing academically to each child.
2780 Mitchell Dr., Walnut Creek (925) 944-0626
5100 Brannigan St., Dublin (925) 828-5102
Amenities & Features
Before & after school care
Diapers accepted
Full time program
Language immersion
Part time program
Preschool curriculum
Summer program
Teaching credentials