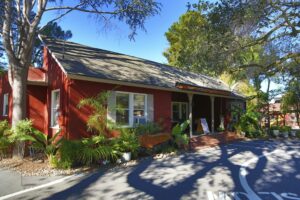 1468 Grant Rd., Los Altos, California 94024
Tuesday
7:30 am - 6:00 pm
Wednesday
7:30 am - 6:00 pm
Thursday
7:30 am - 6:00 pm
Operating since: 1960. Accepts children aged 2 years & up
More About Montecito School
***School Philosophy***
Montecito School's philosophy is to provide a play-based curriculum in a rich natural environment. Play sets the stage through which children develop their imaginative minds and critical thinking abilities, which promotes successful academic learning. Children are surrounded by a welcoming environment of enriching experiences that include nature and animals.
***Curriculum Design***
Curriculum is skill based
Children learn through play
Curriculum planning is observation-based and intentional
Activities are appropriate for each child's age
Curriculum has culturally inclusive meaningful activities
Activities are adapted to meet the needs of all children including those with disabilities and special needs
***Preschool Classes***
Classes at Montecito are 3 hours long, available 2, 3 and 5 days per week in the mornings and afternoons. We have part-time and full-time program options.
***Preschool Full-Time & Part-Time Days***
We are open daily from 7:30 am to 6:00 pm, and part-time and full-time programs are available for every age group. Naptime is offered to all ages daily, but not required.   Full-Time days include a morning class, a lunch period and an afternoon class.  Drop-in care is also provided year-round PT or FT, as needed.
***Weekly Class Schedules***
Please come for a tour and take a virtual tour on our website so you can tailor your child's schedule to your family's needs.  Classes and drop-in care are offered on T/TH, MWF and M-F part-time and full-time for children ages 2 through Kindergarten & K-5th.
***Summer at Montecito***
We also offer part-time & full-time Summer school camps and drop-in care.  Summer programs emphasize fun, engaging and meaningful activities for children ages 2 through 5th grade. Our 7-8 week camp programs run from mid-June through mid-August. Our highly qualified teachers staff the summer camps and our regular school year programs.
***Drop-in & Back-up Enrichment Programs***
Montecito provides year-round daily Drop-in/back-up Enrichment Programs, available to preschoolers and elementary children. Children may attend our Drop-in Enrichment without any advance sign-up, available daily 7:30 am to 6:00 pm. We also offer F/T drop-in Enrichment during our school breaks M-F, 7:30 am to 6:00 pm.
***Age Requirements to Enroll***
For all Montecito programs, including Preschool & Elementary Drop-in Enrichment – Children must be no younger than 2 years old and no older than approximately 11 years old (through 5th grade).  Please come for a tour for more detailed age requirements for your child, and see what makes us unique!
***Amenities & Features***
Before & after school care
Date night
Diapers accepted
Drop-in care
Field trips
First Aid & CPR Certified
Full time program
Part time program
Play based
Potty training assistance
Preschool curriculum
Sibling discount
Special needs care
Summer program
Teaching credentials
Tags
diapers-accepted
,
first-aid--cpr-certified
,
full-time-program
,
play-based
,
potty-training-assistance
,
preschool-curriculum
,
childcare-guide
,
childcare-center
,
preschool
,
part-time-program
,
teaching-credentials
,
summer-program
,
field-trips
,
before--after-school-care
,
sibling-discount
,
special-needs-care
,
date-night
,
drop-in-care