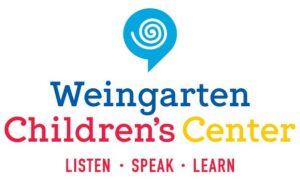 3518 Jefferson Avenue, Redwood City, California 94062
Tuesday
8:30 am - 3:30 pm
Wednesday
8:30 am - 3:30 pm
Thursday
8:30 am - 3:30 pm
About Weingarten Children's Center
Operating since: 1970. Accepts ages 18 months through 6 years
More About Weingarten Children's Center
Discover the exceptional toddler, preschool and prekindergarten/kindergarten program at Weingarten Children's Center (WCC)! At WCC, it is our mission to prepare children to thrive socially, emotionally, and academically, setting them up for lifelong success. Our credentialed and experienced teaching staff empower children to take charge of their own learning through the development of critical thinking skills.
WCC offers a life-changing opportunity for your child to learn alongside children with hearing loss who communicate using spoken English. This inclusive environment embraces diversity and fosters empathy, understanding and a sense of belonging.
For over 55 years, WCC has been a leader in teaching spoken language to young children who are deaf or hard of hearing through a Listening and Spoken Language (LSL) approach. Each class has a small student to teacher ratio, allowing for individualized instruction and the opportunity to form close relationships. We are committed to building strong partnerships with our families to ensure each child reaches their potential.
Contact WCC now for a tour and give your child the gift of a bright and promising future!
Ages Accepted: 18 months through Kindergarden / 6 years
Amenities and Features:
Diapers accepted
Full time program
Part time program
Preschool curriculum
Special needs care
Summer program
Teaching credentials
Capacity: 75
Full time tuition: $370 – $2,718
License: 41-69005 and 70-16082